Invoice Preparation Services from a Factoring Company: 5 Key Benefits
Invoice preparation is one of the most effective time-saving services offered by factoring companies. Invoice preparation adds improved administration to the suite of benefits that factoring can offer businesses, with professionally prepared, timely, and accurate invoicing. This can help streamline financial processes,  improving cash flow and reducing financial risk. Factoring company invoicing services offer five key benefits to businesses.
Time Savings
Creating and processing invoices can be very time-consuming – especially for businesses with a wide range of service providers, which may require different or tailored payment terms on their invoices. Invoice preparation by factoring companies frees up time for businesses to concentrate on sales and operations.
Improved Cash Flow
Invoice payment terms determined by factoring companies can further improve the cash flow benefits of factoring. Customers with high credit scores can be offered longer payment terms on their invoices while the business still benefits from immediate payment.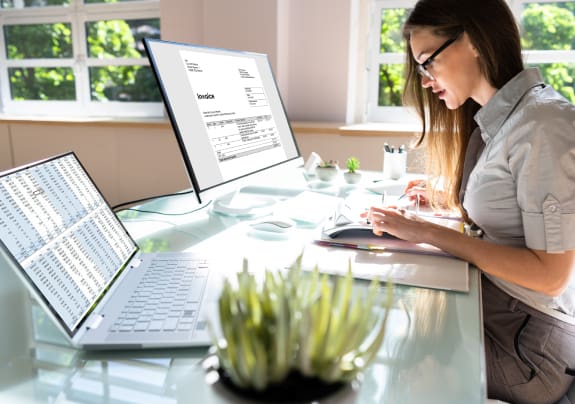 Credit Risk Management
Tailored payment terms with invoice preparation contribute to overall credit risk management. When credit risk management is taken on by the factoring company, invoicing and payment terms are better tailored to lessen risk.
Professional Invoicing
Professional and timely invoicing from a third-party, such as a factoring company, means invoices are more likely to be paid on time. Professionally prepared invoices with professionally assessed payment terms, tailored to industry norms and client and customer needs, are less likely to result in defaults on payment and contribute to a business's financial security.
Flexibility
Flexible and tailored payment terms can improve a business's customer relationships. If a customer needs longer to pay in full, it will not impact the business's cash flow. This makes it easier for businesses to maintain cash flow and access funds without pressuring customers to pay up earlier or in cases where they need more time.
If you're looking for invoice preparation services from a factoring company, be sure to check out our Invoice Factoring Guide discover how to find a factoring company that offers this service and other helpful features.
You could also contact us for a factoring rate quote.
Get Your Free Factoring Quote
GET YOUR FREE FACTORING QUOTE