Edmonton Factoring Companies
If you are looking for reliable factoring company in Edmonton, look no further. We have a collection of factoring companies that can help you to succeed and grow your business. The trucking industry is growing in Edmonton, with businesses requiring capital to keep their fleets on the road. These industries are linked to the transportation, oil, and gas industries. Factoring companies can keep industries afloat with a steady factoring line of credit, affordable fees, and no interest rates.
Invoice Factoring Services in Edmonton
Factoring companies provide quick access to working capital. You can receive invoice factoring services, payroll factoring, freight factoring, and spot factoring, among other factoring benefits. With invoice factoring services, all you have to do is sell your invoices to a factoring company and pay a factoring fee. You will then receive funding for your invoices (recourse or non-recourse factoring). Your debt gets settled when the factoring company gets paid by your customers, although with non-recourse factoring, you won't be liable.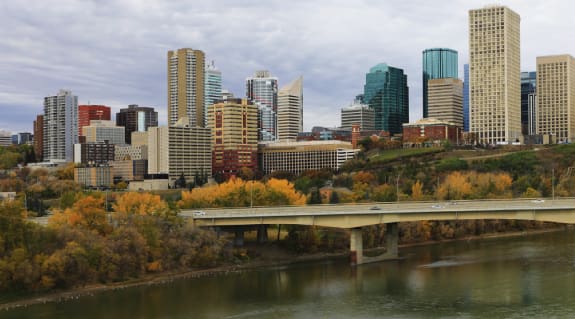 Accounts Receivable Financing in Edmonton
Other types of receivables financing are also available to Edmonton businesses. These accounts receivable services won't require you to sell your invoices. You can use your assets as collateral (asset-based lending) or try other financing solutions such as equipment leasing and financing, fuel advances and fuel discount cards, and collections services. All of these services will help you gain funding fairly quickly.
Small Business Loans in Edmonton
While it is possible to get traditional business loans in Edmonton, banks often have lengthy approval processes and policies. With invoice factoring, you may be able to get approval within 24 hours in some cases. Depending on the factoring company you choose, you may also experience a streamlined and easy application process.
Edmonton's Business Economy
If you have a business in Edmonton, you have the potential for success as the city has a thriving business economy. Edmonton was named one of the top cities in Canada for affordability and job growth, with the capital coming from the oil and gas industry and technology-based businesses. 
Choosing a factoring company to suit your business needs can be difficult, but we're here to help. 
Browse our Factoring Guide to find all the information you need to know to choose the best factoring companies in Edmonton for your business.
Get Your Free Factoring Quote
GET YOUR FREE FACTORING QUOTE