Invoice Factoring for Janitorial Service Companies
The janitorial service industry, also known as the commercial cleaning industry, works in residential buildings, retail centers, healthcare facilities, government buildings, and more. Are you struggling to meet your short-term funding needs due to a new contract? Do you have established clients, but your cash flow is affected because they pay 30, 60, or even 90 days after receiving your invoice? Factoring is a reputable business funding alternative. Sell your accounts receivable to us, and we will provide you with capital to use as necessary. We pay a large percentage of your invoice upfront for work already completed.
Janitorial Factoring vs. Bank Loans
Bank loans are approved based on your janitorial service company's operational and credit history. If the loan is approved, your company incurs debt that must be repaid with interest over a specific period. Factoring provides funding based on the credit strength of your clients. You incur no debt and pay no interest.
Top Challenges in the Janitorial Service Industry
High staff turnover.

Due to the type of work and wage level, it is challenging to recruit and keep well-trained staff. 

Competitive market.

The competition is fierce because of how easy this market is to enter, but differentiation is required if you hope to stay ahead of the game.  

Sustainability. Offering sustainable commercial cleaning services can initially be expensive but might be valued by high-income households purchasing housekeeping services.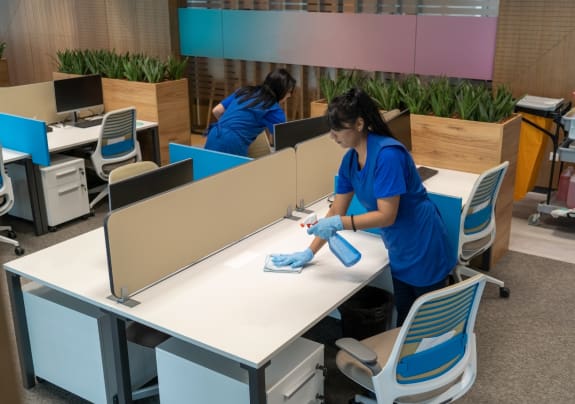 How to Run a Successful Janitorial Service Company
Picking a niche and focusing your energy there can help you establish trust in a competitive landscape. Janitorial services are a very competitive market, but if you offer a specialty service that cleans only hospitals or offices (for example), it might result in more contracts because that is where you have built a name for your company. Always stick to your budget but plan for expansion, including transportation and additional employees. A factoring company can provide additional funding as soon as an agreement is reached.
Financing Options for Janitorial Service Companies
Equipment financing – The capital can only be used to purchase business-specific equipment, and upfront costs are high. 

Short-term business loans –

The fees are complicated and high, while payments are usually made daily or weekly.    

Invoice factoring  – The size of your janitorial service business is irrelevant with invoice factoring. The factoring company's main concern is the creditworthiness of your customers, which is why this service is also available to smaller or less-established companies. Invoice factoring fast-tracks the income tied to slower-paying customers. The factoring company advances the largest portion of your invoice upfront once its verification process is completed and holds the invoice as collateral. Once the debtor pays the invoice in full, the amount held in reserve is paid to you, excluding the factoring company's service fee.
Interested in invoice factoring for janitorial service companies? Request a janitorial factoring quote today.
Get Your Free Factoring Quote
GET YOUR FREE FACTORING QUOTE