Invoice Factoring for Security Guard Companies
Invoice factoring for security guard companies allows you to borrow against your open accounts receivable, thus reducing the burden of outstanding customer debt. Additionally, invoice factoring provides businesses with a fast and reliable funding solution that can be used to meet current obligations and expand operations without typical cash-flow challenges brought on by slow-paying clients.
Security Guard Factoring vs. Bank Loans
Traditional bank loans are a set amount of money that you must pay back over time with interest. Factoring, in contrast, is simply an advance on your invoices.
Before lending you money, banks require proof that the business is financially stable. They are also picky about what kind of collateral they'll accept, charge interest of 10-20% per year, and process applications at a snail's pace.
Factoring is an affordable, fast, and convenient funding solution and eliminates the need to take on a formal loan or incur debt.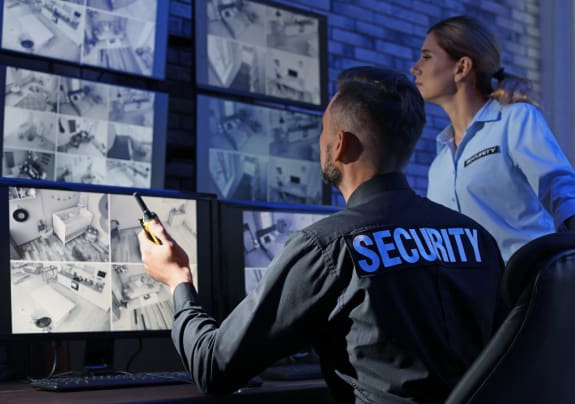 Top Challenges in the Security Guard Industry
Security services face specific challenges that make running a business in the industry no easy task.
Attracting and Retaining Top Talent
Security guard company owners frequently face the challenge of hiring and training new recruits. While finding and qualifying security guards can take weeks or months before you see any return on that investment, overhead expenses still need to be paid.
Staying Profitable When You're Up Against Tight Margins
In an increasingly competitive market where average profit margins are below 4% and labor costs are projected to increase, staying profitable in the security guard industry is tough!
Proving Quality, Service Delivery on Your Contract
On the one hand, clients expect proof of what has been done. But on the other hand, monitoring a staff of security guards spread out on different sites is almost impossible. Utilizing workforce management technology is invaluable but also expensive to lay out.
How to Run a Successful Security Guard Company
Security companies may focus on one or more of the following services:
Depending on what you plan to specialize in, you will need to obtain relevant permits and licenses.
Included in your business plan, you must show how you plan to finance the launch of the business. Those security companies that are successful started off with substantial funding at the outset.
Financing Options for Security Guard Companies
There are four financing options from which you can choose:
Banks and other traditional lenders provide loans that are slow and tedious to get – especially when your security services business is new. If you do manage to qualify, their loans are accompanied by hard limits and interest.

Credit cards are suitable for short-term needs but come with exorbitant interest rates that snowball your debt.

Loans from family and friends may not be sufficient. Moreover, mixing business and personal relationships is ill-advised.

Invoice factoring lets you leverage your outstanding invoices for immediate, flexible working capital:
The factoring company purchases your accounts receivable. You get most of the amount within 24 – 48 hours. (Way quicker than the typical 30 – 90 days for payment from customers.)

When your client pays the invoice in full, you receive the rest, minus a small factoring fee.
Finding a factoring company with experience in security guard factoring is a must. You want to work with factoring professionals who are flexible enough to customize a factoring program that will meet your needs today and allow for growth in the future.
Want to get started with invoice factoring for security guard companies? Request a factoring rate quote today.
Get Your Free Factoring Quote
GET YOUR FREE FACTORING QUOTE