Roadside Assistance from a Factoring Company
The nature of the freight industry makes roadside assistance from a factoring company invaluable.
Making it in the transport field takes nerves of steel. Not only are you operating in a competitive industry, but your service impacts the success of businesses in other sectors. 
You are responsible for valuable loads, a fleet of expensive trucks, a team of drivers, and even conditions out of your control, such as icy roads, accidents, and breakdowns.
Roadside assistance offers your business a variety of benefits and features, including:
Emergency Services
When your fleet is transporting goods, and on the road for long periods of time, drivers can experience mechanical issues or accidents that prevent them from continuing to operate.
Roadside assistance provides your businesses with access to emergency services such as towing, jump starts, tire changes, and fuel delivery, helping them to get back on the road quickly in case of an emergency.
Nationwide Coverage
No matter whether you are an independent contractor or a more established transport company, you will find yourself in far-flung places from time to time.
Should you get stuck on a "dark desert highway,"  having a network of assistance to call on in an emergency is essential. 
With nationwide coverage, good roadside assistance services are available wherever you are located!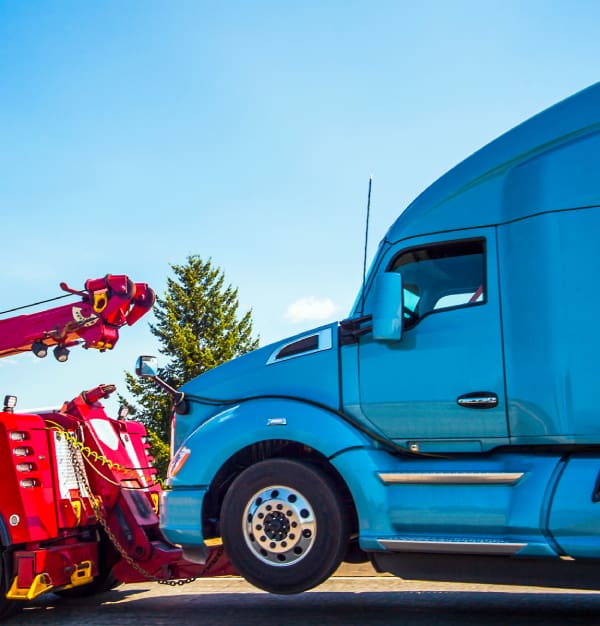 Quick Response Times
To maintain your reputation and ensure that your clients keep choosing you, your truckers must keep to strict schedules. 
Any breakdowns can result in them falling behind schedule, potentially causing issues with customers. The quick response times provided by a roadside assistance team waiting on standby minimize these disruptions. 
Getting your haulers back on the road again is the top priority!
Easy Access to Services
It's not a coincidence that people believe bad luck comes in sets of three. When your vehicles need roadside assistance, you want peace of mind that no matter what else is unserviceable, you will still be able to get help!
Roadside assistance makes it easy to request assistance through a variety of methods such as a phone call, website, or mobile app.
Enhanced Security
Prevention is better than a cure! For that reason, choose roadside assistance that includes enhanced security features, such as tracking and monitoring of service vehicles.
Take time to find the roadside assistance package from a factoring company that is most useful for your business.
Contact us for a factoring rate quote today.
Get Your Free Factoring Quote
GET YOUR FREE FACTORING QUOTE