Invoice Factoring for Automotive Companies
Automotive companies are the unsung heroes of the vehicle production industry. Everyone remembers the name of their favorite car brands without paying much attention to the parts suppliers, manufacturers, distributors, and other small businesses responsible for the vehicle's complete production. 
Each business in the automotive industry must overcome several challenges, from seasonal slowdowns and downtime to inventory delays, fewer sales, and increased competition – all of which contribute to cash flow problems. Factoring for the automotive industry can help automotive companies accelerate their cash flow so that they are better equipped to handle urgent expenses without needing to wait 30, 60, or 90 days for their clients to pay them.
Automotive Factoring vs. Bank Loans
Traditional financing methods, such as bank loans or lines of credit, typically have drawn-out application processes, and then you will still need to wait for the funding to eventually be paid out (if you even qualify). Invoice factoring, however, offers quick online approval and payouts within one to two business days.
You complete your invoicing as usual, but instead of waiting for your clients to pay, you sell the open invoices to a factoring company in return for a percentage of their value in advance. The factoring company usually takes care of collections for you as well, freeing up valuable time in your business.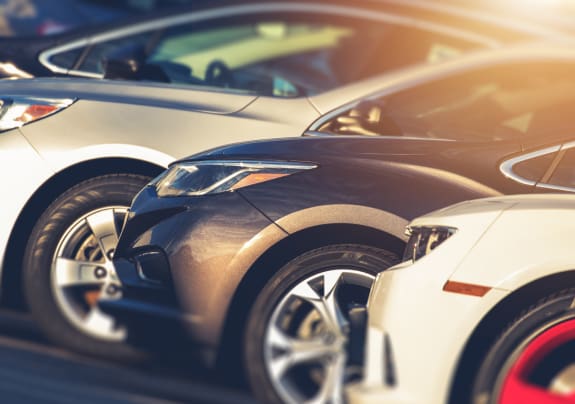 Loans are infamous for their sky-high interest rates and less-than-ideal repayment terms, plus many companies won't be approved for the amount of cash they actually need (if at all) due to poor credit histories. Factoring, on the other hand, is a flexible financing solution that is not recorded as debt on your balance sheet (protecting your credit score). It is also a low-fee financing option where you can advance as many or as few invoices as you like, giving you further control over your cash flow. Plus, your business and personal credit score is not a contributing factor in approval – the factoring company will be more concerned about whether your clients are creditworthy or not.
Top Financial Challenges in the Automotive Industry
The automotive industry continues to face enormous challenges in meeting global demand, especially in the wake of the pandemic. This resilient industry has overcome numerous speed bumps, from supply challenges and production shutdowns to semiconductor shortages, global supply chain bottlenecks, and labor shortages. Plus, customer demand has never been more difficult to predict than it is today. Here are some of the top financial challenges in the automotive industry.
Supply chain disruptions –.Each vehicle on the roads takes meticulous care, planning, organization, production engineering, and manufacturing to bring together. Each vehicle uses between 15,000 and 20,000 individual parts to create. Unfortunately, production issues following the pandemic and other socio-economic events have disrupted supply chains worldwide. Supply chains in the automotive industry have faced more than disorganization and disruption; they will now be under additional pressure as a result of semiconductor manufacturing bottlenecks and the return to electric mobility. Recent times have shown severe fragility in supply chain analytics, so automotive companies must rely on digitalization and other agile practices to ensure resilience and transparency if they hope to stay solvent.

Liquidity – Liquidity has been one of the biggest challenges automotive companies have had to face over the last couple of years. Slow sales and production shutdowns gradually led to heavy financial losses, with OEMs operating on minimal liquidity. The lack of funds will likely lead to the bankruptcy of many small automotive companies. As the financial challenges continue to accumulate, securing liquidity is becoming more and more difficult, with many automotive companies turning to government support. Artificial intelligence in the automotive market is becoming more essential for predicting real-time cash influxes. In addition, automotive companies will need to put more effort into establishing relationships with financial institutions for investments as they navigate the liquidity challenges.

Changes in consumer behavior – In the last couple of years, consumers' daily transportation needs have been influenced by new factors like lockdowns, health issues, and an evolving shift towards remote work. When it comes to vehicle shopping, buyers are facing historically high prices for both cars and fuel. And adding to the confusion, customer preferences for EVs are quickly changing. This, combined with higher costs of living, has led to a huge drop in automotive sales, and vehicle demand is likely to become more elusive in the face of geopolitical changes, rising commodity costs, and record inflation. 
How to Run a Successful Automotive Company
Resource management will be one of the most important aspects of running your automotive business. Doing so can help keep you from making bad financial decisions. As such, you should consider all available options and examine all avenues when deciding on your inventory management strategies, what repairs to make, and what parts to purchase. Doing so may take some time and effort, but it will pay off in the end.
In the difficult economic climate, you need to make sure you're making the right decisions for your business, including the staff you hire. Labor shortages are a problem, so you need to make sure effective staff retention efforts are in place. In the same breath, it is important to be diligent in your hiring decisions and ensure that you are only hiring trustworthy staff who are experienced and qualified enough to fulfill their duties. Your employees play a huge role in how customers see your business, so be sure you are hiring employees who make your company look good through diligent, quality work. 
To stay competitive in the automotive industry, you will also need to monitor your competitors and learn what may be driving their success. Learn from their mistakes and take the strategies that do work for your competitors and improve them. Then, be sure to market your company properly to attract new clients and get the word out about why your business should be chosen over a competitor's.
Financing Options for Automotive Companies
Asset-Based Loans – Asset-based lending (ABL) allows businesses to obtain financing by using their business assets as collateral. These tangible assets can be your equipment, real estate, machinery, or even your invoices.

Equipment Financing – Equipment finance is a type of loan where businesses borrow money to purchase tangible assets, such as equipment. After your business is approved, you'll pay back the loan in monthly payments for an agreed-upon period of time. Companies in the automotive industry often use these loans to buy equipment or vehicles for their business, but they can also use them to purchase any tangible asset aside from real estate.

Inventory financing – Inventory financing allows automotive manufacturers to leverage their excess inventories as collateral for funding. This can provide your company with the funds needed to cover your operating costs but is generally quite expensive compared to other forms of funding and should only be considered if all other funding options have been exhausted.

Invoice Factoring – Factoring in the automotive industry involves selling your company's outstanding invoices at a discount from their face value. You receive an immediate cash payment that you can use however you like while the factoring company collects payment from your customers. Factoring for the automotive industry can help your business meet payroll expenses, purchase the necessary inventory to fulfill customer orders, grow your business, and cover any other business expenses.
You can obtain immediate cash for your business needs by selling your invoices or accounts receivable at a discount to a factoring company. But how do you know which factoring company to trust with your business when there are so many to choose from?
No matter what industry you are in, where you are located, or what size of business you have, Factoring Companies Canada can help you find the best factoring company for your needs. 
If you're interested in invoice factoring for automotive companies, check out our Factoring Guide to learn more about how to compare factors in your industry, or request a factoring rate quote today!
Get Your Free Factoring Quote
GET YOUR FREE FACTORING QUOTE