Alberta Factoring Companies
Searching for the best factoring companies in Alberta? The Factoring Companies Canada directory has you covered. Below, you'll find a list of factoring companies serving Alberta. Click any of the links for additional background on the company, contact information, industries served, and more.
If you're looking for general information on factoring companies in Alberta, explore the full page or visit our detailed Factoring Guide. You can also accelerate your search by requesting a factoring rate quote now.
Factoring Companies in Alberta
Invoice Factoring Services in Alberta
Invoice factoring services are different from any other business funding solution you might find. Also referred to as accounts receivable financing, factoring accelerates payment on your B2B invoices. Your business already earned this money, so there's no debt or interest to pay back.
How Accounts Receivable Financing Works
Accounts receivable funding is fast and easy. Getting paid is a simple process once you're set up with an Alberta factoring company.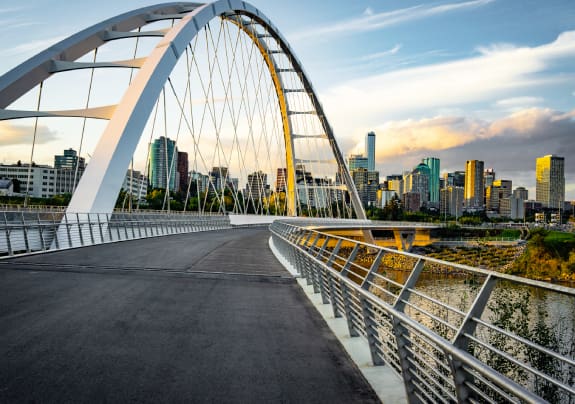 Complete work or deliver goods. Continue working like you usually do.

Invoice your client. Some invoice factoring companies will take care of this step for you, or you can continue to invoice as usual. If you go this route, submit your invoice to your factoring company after.

Receive most of the invoice's value. Your invoice factoring company will pay you up to 90 percent of the invoice's value right away. Payment is usually made by ACH and hits your bank account in about two business days, though some companies offer accelerated options, including same-day payouts. Use the funds in whatever way makes the most sense for your business.

Move forward. Your invoice factoring company will follow up on the invoice as needed and collect the balance from your client, so you're free to focus on your business and accept more projects or orders.

Receive your final payment. Once your client pays their invoice, the factoring company sends you the remaining portion minus a small factoring fee.
Benefits of Factoring
Approval is fast and easy. Most businesses qualify, including those that banks have turned down. This is because the creditworthiness of the entity paying the invoice (your client) matters more than yours. Most businesses can be up and running within a couple of days.

Funding is quick. Rather than waiting weeks or months for clients to pay or a bank loan to come through, cash from factoring is usually available within a couple of days of submitting your invoice. Some Alberta factoring companies even pay out on the day you submit an invoice.

There's no debt to pay back. Loans and lines of credit can tie you down with hefty payments and interest. With factoring, there's nothing to pay back because the balance is cleared when your client pays the invoice.

Invoice factoring can strengthen your business. Factoring keeps your business moving forward, not paying off a debt you accrued in the past. Plus, you're likely to see a credit score jump if you're paying your bills on time and keeping your debt ratio low.

Advances scale with you. The advance amount increases as your business grows.
How Alberta Businesses Use Factoring
Cover payroll. Keep your team happy and ensure payday comes like clockwork.

Strengthen your team. Invest in recruitment and training to build your dream team.

Purchase or maintain equipment. Ensure you have the equipment you need to fulfill orders or complete work.

Procure materials or inventory. Stock up as needed and take advantage of prepayment or early payment discounts vendors offer.

Address legal requirements. Take care of licensing, insurance, and other legally required issues.

Invest in business growth. Improve your marketing strategy, expand, or accept more work.

Manage emergencies. Breeze through setbacks and recover faster from emergencies.

Stabilize cash flow. Simplify your cash flow management, even if issues like seasonality and slow-paying customers make it difficult to predict inflows.
Businesses and Industries That Leverage Invoice Factoring Services
Most of Canada's natural gas and crude oil comes from Alberta, so it's no surprise that the oil and gas industry often turns to factoring to keep up with supply and demand. Other key industries in the province, such as agriculture, forestry, finance, mining, and manufacturing, also routinely leverage factoring. However, most businesses can tap into the funding solution as needed. A few examples of industries served include:
Additional Services Offered with Accounts Receivable Financing in Alberta
Credit checks.

Know the creditworthiness of your clients before you extend trade credit with

customer credit checks

.

Invoice preparation.

Some invoice factoring companies will

manage invoice preparation

for you, freeing you to focus more on the core areas of your business.

Collections services.

Because factoring companies provide

collections services

as part of the process, they're chasing payments, not you.

Alternative funding. Once established with a factoring company, you may gain access to additional funding methods that can help as your business grows.
Alternatives to Small Business Loans in Alberta
Due to their lengthy approval processes, slow payouts, and rigid requirements, small business loans are not always a viable option. Many factors offer a variety of funding solutions to ensure your needs are met.
Operating a Business in Alberta
There's a lot to love about operating a business in Alberta. With provincial corporate tax rates ranging from around three percent to roughly 16 percent, Alberta tends to stay reasonably moderate, allowing the province to attract more businesses and grow while supporting quintessential Canadian communities. Alberta was also named the top Canadian province for financial freedom, as reported by the Fraser Institute.
Alberta's Business Economy
The oil and gas industry, along with mining, have dominated Alberta's business economy for years, as the Business Council of Alberta reports. Real estate, business and commercial services, retail and wholesale, and construction round out the top five industries, which comprise 65 percent of Alberta's economy combined. Manufacturing, transportation, utilities, and healthcare are also strong industries in the province.
Starting and Growing an Alberta Business
The official Alberta website offers a wealth of information for those hoping to start a business in the province. The challenges change as your business becomes established. For instance, growing companies often have cash flow shortfalls. This is normal and to be expected because your expenses are higher as you're growing, and you're trying to pay them with yesterday's lower revenues. This is where solutions like invoice factoring come in. If you need a quick injection of working capital, contact one of the factoring companies at the top of this page or click the link below to request a complimentary factoring rate quote.
Get Your Free Factoring Quote
GET YOUR FREE FACTORING QUOTE