Invoice Factoring for Construction Companies
Keeping a construction project on track is a monumental task with dozens of variables working against you. Even the slightest lag, whether it's caused by inclement weather or materials issues, can create a domino effect that sets the whole project back weeks or more. Even if you're a seasoned contractor who runs a tight ship, you've undoubtedly had to cope with delayed milestone approval and slow-paying contracts too. But in an industry built on trust, you can't let these things get in the way of paying subcontractors or covering expenses. That's where invoice factoring for construction companies like yours helps.
Rather than waiting for a milestone or final payment, construction factoring provides you with cash instantly. Pay subcontractors, purchase materials, get a head start on the next project, and more – how you put the money to work is up to you.
How Construction Factoring Works
Although many industries leverage factoring, it's one of the most popular funding methods in construction. Instead of waiting for your normal payout, you simply sell your unpaid invoice to a factoring company at a slight discount. The factoring pays you most of the invoice's value immediately and then waits for payment from your client while you continue your project. When your client pays, the factoring company then sends you the remaining balance minus a small factoring fee. Some construction factoring companies will even send advances to the subcontractors of your choosing for you so that they can cover their own expenses and your projects don't face unnecessary delays.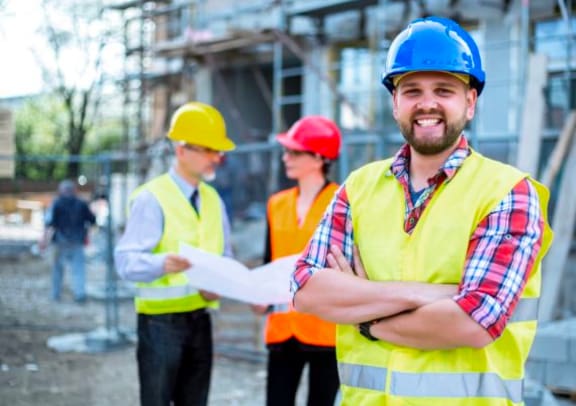 Benefits of Invoice Factoring for Construction Companies
Factoring is unlike any other funding solution available. A few unique benefits of construction factoring include the following:
Flexibility:

With

spot factoring

, you control when you factor. It's like having an ace in your sleeve that you can use whenever you need.

Working Capital Maximization:

All too often, general contractors find themselves funding their general contractors and supplies out of their own pockets. With construction factoring, there's no need for this.

Keep Your Projects on Track: Never miss a milestone, create a delay due to cash flow issues, or risk liens from subcontractor loans.

Improve Subcontractor Relationships: Keep your most trusted subcontractors happy and coming back by eliminating payment concerns.
How Construction Companies Use Factoring
Factoring companies don't place any stipulations on how you can spend your cash. Although it's entirely up to you, many construction firms use theirs for:
Legal Requirements:

Take care of things like

insurance

, licencing, and bonding requirements.

Equipment:

Purchase equipment for use on-site or at the office or maintain the equipment you already have.

Materials:

Order materials for your project or supplies for your business management team.

Growth:

Invest in marketing initiatives or bid on lucrative projects confidently, even if you know they're notoriously slow payers like the government.

Subcontractor Advances: Make sure your subcontractors get paid on time and have cash for supplies.
Types of Subcontractors Construction Companies Pay with Invoice Factoring
Again, it's up to you how you spend your cash. Many general contractors use construction factoring to pay subcontractors such as:
Carpenters

Concrete Pros

Demolition Crews

Door and Window Installers

Drywallers

Electricians

Framers
HVAC Pros

Landscapers

Masons

Painters

Plumbers

Roofers
Bank Loans vs. Invoice Factoring for Construction Companies
If you've ever tried to get a bank loan, you've probably noticed that the bank's efforts are greatest at the onset of the deal. Once you're approved, you're only likely to hear from them if you miss a payment. When you work with an experienced construction factoring company, you get a partner invested in your long-term success.
Construction Invoice Factoring is Unique
From the beginning of your construction factoring journey, your experience is different than if you were applying for a business loan.
Most Businesses Qualify: You'll likely be approved for factoring if your clients are strong and established. Their creditworthiness – not yours – plays a more significant role in your approval. You can get approved even if you've been denied a bank loan.

Approval is Quick:

Approval timelines are fast. Most construction factoring companies can have you up and running within a couple of days if you're diligent about providing them with the necessary information.

Funding is Fast:

Forget waiting weeks or months for payment. It usually only takes about two business days to get funded. Some construction factoring companies even offer same-day payment.

There's No Debt to Pay Back:

Your balance is cleared when your client pays their invoice, so you have no debt or interest to pay back.

You Have More Flexibility: You control which invoices you factor and how you spend the cash. Plus, your factoring company will scale with you, so you can qualify for more cash as the size of your projects increases.
You May Qualify for Additional Services
Invoice factoring companies specializing in the construction industry often offer value-added services, so you can focus more on your projects and let go of tedious business-related tasks.
Credit Checks:

Most factoring companies will check the

creditworthiness of your clients

before you accept a project, so it's easy to make informed decisions about who to work for and how much work you'll do before receiving payment.

Invoice Preparation: Many companies will prepare invoices for you and even make it easy for your clients to pay by offering digital billing and payment options.

Collections Services: No need to chase invoices. Your construction factoring company can manage collections for you and take excellent care of your clients.
Leverage Additional Construction Funding Solutions as Needed
As your business grows and needs change, you may benefit from additional funding. Some construction factoring companies also offer the following:
Get a Free Construction Factoring Quote
Whether you need to take care of subcontractors or keep projects moving forward by addressing other crucial areas, construction factoring can help. To learn more or get started, request a free rate quote.
Get Your Free Factoring Quote
GET YOUR FREE FACTORING QUOTE